The new year is here. We here at Pacific Mobility Center are incredibly excited about 2014 and the possibilities it offers, and we think you should be, too. Why are we so excited? We are excited for you, our clients, of course. You see, we firmly believe that 2014 is going to be your year. The New Year represents the opportunity and the possibility of making new decisions in order to bring about change. This is the time of year when we as human beings reflect on our lives over the past year, congratulating ourselves on our successes and resolving to learn from our mistakes. For you, our valued customers, we believe that 2014 is the year in which you can make the resolution to finally reclaim your mobility. It's time for the mobility-challenged everywhere to stand up and say no more: no more feeling like a burden to family and friends, no more watching your world slowly shrink down into a smaller and smaller bubble, and no more living only half of your life because you're passing up opportunities and activities that you would have once been able to enjoy.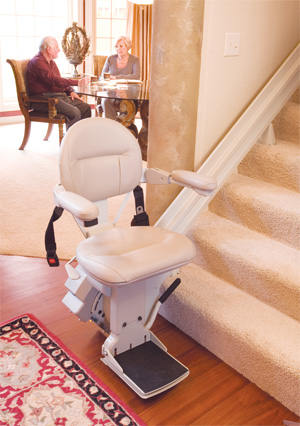 At Pacific Mobility Center, we understand these frustrations and challenges. Our goal for the last 65 years has been to improve the quality of life of our customers, and this goal continues to motivate us on a daily basis. To accomplish this, we offer a wide array of products specifically designed to help liberate the mobility-challenged. From porch lifts and stairlifts to powerchairs, scooters, and canes; from wheelchair ramps to vehicle hand controls and other mobility accessories, we offer the highest quality products at the lowest prices in San Diego. We also strive continuously to make the purchasing process as easy, transparent, and painless as possible for our customers. Many of our products are available for testing in the store. We also offer easy online quotes on installation of a new stairlift by our factory-trained and state-licensed technicians to relieve you of the hassle of having to make and keep a sales appointment.
Resolve to make 2014 the year that you reclaim your mobility and reclaim your life! Come see what we have to offer you and experience the difference that shopping with a locally-owned and family-run business makes. Contact us today to schedule an appointment or for a free quote, or stop by our beautiful showroom to browse our products. Also, be sure to check out and subscribe to our monthly newsletter for money saving deals delivered directly to your email inbox. Let Pacific Mobility Center help you make 2014 the year that you start loving your life again and not just living it. Contact or come and see us today.
For more on how a Bruno stairlift can improve your mobility, watch this short video:

President, Husband, Father, Grandfather Graduate of UC Davis- Bio Sci Major- Go Aggies! Jeff has extensive experience in all of Pacific Mobility's products and services, and specializes in accessibility products as well as stairlifts, ceiling lifts and custom wheel chairs. His hobbies include spending time with family, gardening, mountain biking, exercising and off road motorcycle riding.
24 years as Owner/President of Pacific Mobility Center – selling, installing, and servicing stairlifts, porch lifts, ceiling lifts, pool lifts, handicap ramping, specialty wheelchairs, scooters, power wheel chairs, and other power mobility devices
Certified Environmental Access Consultant since 2008
Licensed General Contractor since 1998
Certified Aging in Place Specialist since 2016
Board Member for Home Access Professionals
Member of Association of Members of the Accessibility Equipment Industry (AEMA)