The Pacific Mobilty Newsletter
Call Us Today!

San Diego County 760-471-8884
Orange County 714-907-4005
Riverside County 951-383-6845
We Keep You Moving
---
Welcome to this edition of our newsletter. We hope that you find it useful and helpful, and we would love to hear from you with any feedback and suggestions.
Thank you!
Can't read this email in your email viewer? Click here to view this email online
---
Thank You To Our Customers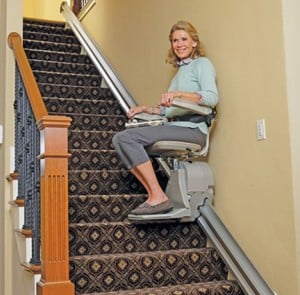 As a way of thanking our clients that have already purchased a stairlift from our company we would like to provide the following rewards program. If your stairlift is providing you with the benefit you deserve while staying in the home your love, we will pay you cash or provide free service on your stairlift for referring a friend, family member or a client to our company that is in need of a stairlift.
If they buy a unit we will pay $50 cash or provide a free annual service for stairlift. In addition we will deduct $50 off the purchase price of the stairlift for the person you refer to our company.We think giving back to our loyal customers is money well spent versus paying an advertising company. Hopefully you will see this program as a win-win for all us. Thank you all for taking the time to read this information.
---
We Proudly Offer the ShowerBuddy and TubBuddy!
Click The image Below To View TheVideo
---
Something To Think About
"Acknowledging the good that is already in your life is the foundation for all abundance."
~ Eckhart Tolle ~

---
Planning-Ahead for Reduced Mobility

Nobody is getting any younger and many may be noticing changes in mobility or health needs. How can individuals plan now for this later? It makes good sense to plan…

Medical Conditions Where A Stairlift May Be Beneficial

Think about the times and situations that would make a stairlift helpful? Would you benefit from a lift in your home? There are distinct medical conditions that make a stairlift…

Staying Emotionally Well with Limited Mobility

Physical limitations, disabilities, and chronic pain issues can take their toll on an individual's emotional wellbeing. Day-in and day-out, challenges and struggles associated with limited mobility can be exhausting and…

How to Increase your Safety when Using a Wheelchair

Stay safe when using a wheelchair with some tips that can prevent problems and reduce the risks of a nasty fall. Be particularly cognizant of your surroundings to ensure terrain…
Pacific Mobility Center, Inc.
San Diego County Showroom
1355 Grand Avenue, Suite 102
San Marcos, CA 92078
Copyright © 2021 Pacific Mobility Center, Inc.